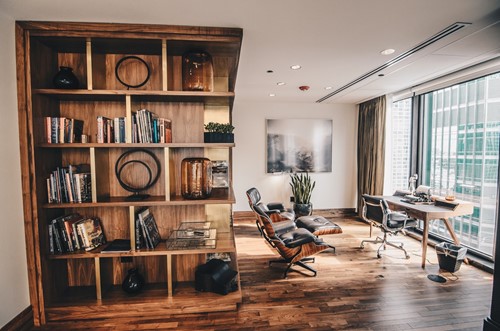 When you need more storage space, built-in shelves are an ideal choice. These shelves can add visual appeal to any room while also providing storage space that takes up minimal floor space. You don't have to hire professionals to get built-in shelves in your home. With a bit of time and the right materials, you can easily make your own built-in shelves. While you're coming up with DIY built-in shelving plans, keep the following tips in mind.
Choose a Location
Where do you plan on putting your built-in shelves? These shelves can frame a fireplace or window or take up an entire wall. You can put built-in shelving in walk-in closets, bathrooms, living rooms, kitchens, bedrooms and any other area in your home. When you're choosing a location for your shelves, think about how they'll look and how you plan to use them. You might want built-in shelves for books in a reading nook, photo frames and knickknacks in a living room or practical items in a kitchen, bathroom or home office.
Compare Built-in Shelves vs. Add-on Shelves
When you're making your own shelving, keep in mind that true built-in shelves might involve cutting into an existing wall for installation. This method can be more complex, but it also helps reduce the amount of floor space your shelving takes up. Built-in shelves are flush with the wall on either side and don't take up any floor space. If you don't want to cut into walls, you can add DIY shelving to a wall. These shelves will stick out from the wall on either side and take up a small amount of floor space.
Build From Scratch
Your DIY built-in shelves can be entirely constructed using wood frames and shelves. This allows you to customize the shelves in order to fit your design preferences and practical needs. For example, you might want evenly spaced shelves or shelves in different lengths and widths, depending on the look you're trying to achieve and what you plan to use your shelving for. Building these shelves from scratch takes more time and effort, but it gives you more control over their appearance and function.
Connect Existing Shelving
If you don't want to build your DIY shelves from scratch, you can connect existing shelving units. Arrange the units you plan to use against a wall, then fasten them together to create a seamless look. Whether you're framing a window or fireplace or covering a wall with shelving, you can mix and match different shelving units as needed. Consider painting the shelving in the same color for a uniform look.