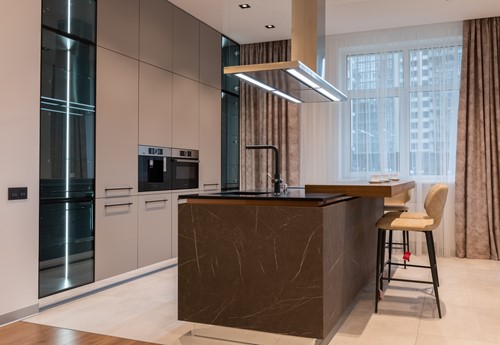 Photo by Max Vakhtbovych from Pexels

Home designers are seeing a pretty specific dream sheet of most-desired features in contemporary kitchen design. And those features aren't as surprising or innovative as you might think. Here's a brief overview of today's most popular (and useful) kitchen features.
1. A Kitchen Island
For many people building a home, the dream is an expansive kitchen island that effortlessly becomes the focal point of the kitchen, allowing people to gather and talk while providing extra counter space and storage below. Not all kitchens have the floor space for a large island, but even small kitchens can benefit from a compact island, which can add much-needed versatility and storage. Keep in mind that the recommended floor width on either side of an island is 42" (for a kitchen with a single cook) or 48" (for a kitchen with two cooks working at the same time).
2. A Farmhouse Sink
A double-width sink with no dividers is topping the list of today's homebuyers who are sick of not being able to fit their 8-quart Dutch ovens (and other large pots and pans) into their kitchen sink. Large, wide sinks are in, often with a small removable basin for soapy water during the washing process.
3. Ample Storage/Pantry Space
A walk-in pantry provides many home cooks with the space they need to close the door on a mess. For others, a floor-to-ceiling pantry built into the cabinet design is more than ample for their family's needs. But that storage needs to be well-designed to allow for easy visibility and access of items at the very back. Some pantries feature sliding or pocket doors—either glass or wood—to enable shutting the door on the mess without necessitating door-swing space in the kitchen's interior.
4. Built-In Appliances
For a truly streamlined look, a built-in refrigerator/freezer with custom panels matching your cabinets is hard to beat. These refrigerators are typically counter-depth, matching the depth of your cabinets exactly, and feature fully articulating hinges so doors open completely for easy access to the inside. Pair a built-in refrigerator with a coordinating drawer-style dishwasher, and your kitchen will be the envy of all your guests.
5. Double Ovens
For those who cook and bake regularly, double ovens—especially double wall ovens—are an absolute must. The double oven makes large meal prep a breeze—and dramatically simplifies the oven schedule when preparing special occasion feasts or holiday dinners.
Many home chefs also opt to incorporate these nice-to-have kitchen additions:
A pot-filler above or right beside the kitchen stove, making it easy to fill up a pot or kettle without carrying it back and forth to the kitchen sink.

A commercial-style gas range that meets chief industry standards and cuts down on cooking time and temperature inconsistencies.

A coffee bar with everything the household needs to make their preferred cup of joe in one convenient spot.

An appliance garage on the counter for hiding away appliances like blenders or stand mixers.